St. Hybald, a Benedictine Abbot of Bardney, England, is known under various names (Higbald, Hibald, Hygbald). He is relatively unknown, save for a few passages of reference in Venerable Bede's  Ecclesiastical History. Hybald is also called Hybald of Lindsey, though not in association with the episcopal see of Lindsey, but of the old Kingdom of Lindsey, a sub-kingdom of Northumbria situated between Witham and the Humber rivers. Lindsey was one of the most ancient of the Saxon kingdoms, already on decline by the time the mission of Augustine arrived.
According to St. Bede, Hybald was a companion or disciple of St. Chad of Mercia and became a monk due to the holy example of Chad. He is associated with the monastery and church of Bardney in Lincolnshire. Bardney seems to have originally been a missionary church of St. Chad founded in the Lincolnshire fens, and Hybald was its first abbot. Bede tells us that he was exceedingly abstemious in his behavior and was constantly speaking of the deeds of the fathers, both the desert fathers and those of England. He was buried at the shrine of Hibaldstow, a place that literally means "Hygbald is buried here," which became a popular pilgrimage site throughout the Middle Ages.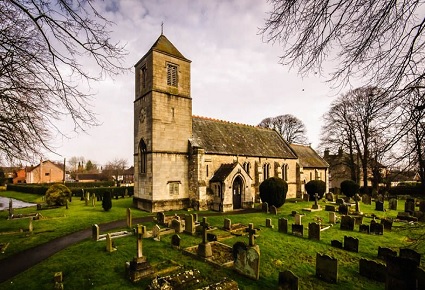 The original shrine of Hybaldstow was destroyed by the Protestants, but a new church was erected in the site during the time of Stuarts. The relics of St. Hybald were discovered in 1866 when the dilapidated Stuart era church was rebuilt. Ironically, St. Hybald is very popular among the small Greek Orthodox community of England, who venerate him on December 14th; the Roman Catholic feast day is December 18th. A Troparion to Hybald is still in use in the orthodox churches of England:
Thou didst love Christ all thy life, O blessed one,
and longing to work for Him as a hermit
thou didst struggle by the pools and carrs of Lindsey with good works, prayer and labour.
With penitent heart and great love for Christ
thou worked with missionary zeal for the Lord.
Wherefore we cry to thee:
beseech the Lord that our labours may be blessed and that our souls may be saved.
St. Hybald, ora pro nobis!
---
Phillip Campbell, "Hybald of Bardney," Unam Sanctam Catholicam, March 31, 2013. Available online at http://www.unamsanctamcatholicam.com/2022/08/hybald-of-bardney-d-690