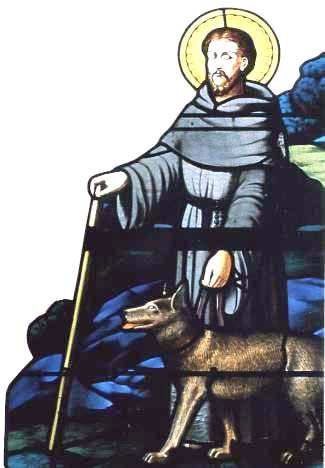 St. Herve (521-556), sometimes known as Harvey or Hervues, was a Welshman, son of the the famous bard Hyvarnion. At a young age his father died and his mother, Rivanone, took up the eremitic life and entrusted young Herve into the care of his uncles, residents of Brittany. His family had a connection with Brittany through his late father Hyvarnion, who was a bard in the court of the Merovingian king Childebert I.
Herve was born blind, and thus was very limited in his choice of vocation. He initially took up the life of a bard, following in the footsteps of his famous father. After relocating to Brittany, he took up the monastic life and was renowned for holiness and wonder-working. He was accompanied by a domesticated wolf. According to a legend, this wolf had devoured the ox or donkey Herve used in plowing. Herve then preached a sermon that was so eloquent that the wolf penitentially begged to be allowed to serve in the ox's stead. Herve's wolf pulled the plow from that day on. St. Herve is frequently depicted with a wolf. Like many Welsh and Celtic saints, he had a mystical connection with the animal world.
St. Herve eventually attracted a number of humble followers and founded an abbey at Lanhouarneau, where he would eventually be buried. Throughout his life he rejected any ordination or earthly honors, despite being venerated as a saint during his life. Along with St. Ives, he is the most popular saint from Brittany and is the patron of the blind.
His Feast Day is celebrated on June 16th
---
Phillip Campbell, "Herve the Bard," Unam Sanctam Catholicam, June 17, 2013. Available online at https://www.unamsanctamcatholicam.com/2022/12/herve-the-bard-d-556