One must really delve deep into the early medieval sancti obscuri before encountering the 6th century Breton saint Budoc of Dol.
Budoc's life is shrouded in legend. Most sources agree that he was a prince or member of the nobility. His father is often identified with the King of Goello, a petty ruler of the Kingdom of Brest on the outskirts of the northern Frankish dominions. According to legend, Budoc's mother is various named as Azenor, Asenora, and Senara. Like Mary Magdalene, Azenor appears to have had a dissolute past prior to a strong conversion to the Faith.
At some point Azenor became pregnant and the King of Goello suspected her of adultery due to lies spread by her stepmother. The furious king locked Azenor in a wooden chest and cast it into the sea. The rigors of the affair brought her to the point of labor, and the terrified woman gave birth at sea while locked in the chest. The mother was allegedly attended in her perilous labor by apparitions of St. Brigid of Kildare. The casket was guided to the shores of Ireland, where Budoc was raised and drank deeply from the springs of Irish Catholic spirituality at a monastery in Waterford.
After sometime the stepmother died, recanting of her evil before she did. Azenor and Budoc were welcomed back to Brittany. Since his youth Budoc evidenced an interest in spiritual things and entered the monastery at Youghal. He remained at Youghal for some time, eventually becoming its abbot.
There are various other traditions about Budoc. A 9th century vita of St. Brendan Winwaloe mentions that Budoc lived for some time as a hermit on the Isle of Bréhat, gathering around him disciples whom he instructed in the faith. Around 559 he was elected Bishop of Dol, which had already been the See of two saintly bishops (Samson and Maglorius). Budoc followed in the tradition of his saintly predecessors and governed the See for 26 years.
There is another strong tradition that Budoc spent some time in England. As he died in 585, this would have been prior to the arrival of St. Augustine and the English mission. The tradition places Budoc in the region of Devon around Plymouth. He allegedly crossed over to Devon after his time in Ireland. Near Plymouth he may have founded a church or monastery, though being in the midst of the pagan Anglo-Saxons, this effort probably failed; there are no place-named associated with him in Plymouth. But he has given his name to several places in Pembrokeshire, Cornwall (Budock and Budo Vean for both of which he is patron), and Devon (Saint Budeaux, near Plymouth). A church in Oxford and a monastery at Pill are dedicated to his memory. Budoc was also honoured in and near Steynton, Pembrokeshire. In Brittany there is a cultus but no place-names at Dol, but place-names with no cultus at Cornwall.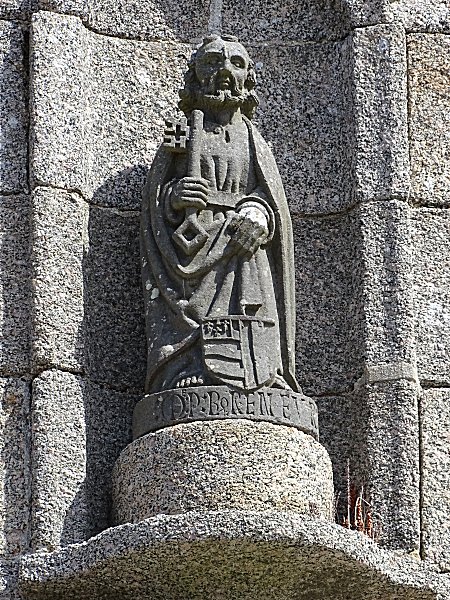 His name is associated with that of Saint Mawes (Maudez, f.d. November 18) in both Cornwall and Brittany. Budock faces Saint Mawes across Falmouth Harbour in Cornwall, and, curiously, Mawes was abbot of a monastery in Brittany that was close to that of Budoc. No doubt they were missionary monks, probably of Welsh origin. It is entirely possible that there are two or more saints of this name whose histories have been confused; however, the feasts of Saint Budoc in the Breton and Exeter martyrologies are close enough (one day apart) that they are likely to be the same person. Saint Budoc is the patron of Plourin, where his relics are preserved, although Glastonbury claimed to possess some of them. Obviously, his birth story suspiciously resembles the tale of Danae and Perseus in Greek mythology. This is no argument he did not exist, but it does suggest the details of his life have been significantly marred. In St. Budoc, legend and history are so intertwined as to make him one of the most obscure of the obscuri.
There still exists a Troparion to St. Budoc:
Thou wast miraculously preserved from the ocean's fury
and, being sustained by the hand of God,
thou didst devote thyself to His service, O Hierarch Budoc.
Being showered with both temporal and spiritual honours both in Armagh and in Dol,
thou didst labour to win souls for Christ,
therefore we implore thine aid,
begging Christ our God that He will save our souls.

His Feast Day was celebrated in Brittany on December 8th. It was later translated to December 9th.